---
What's The Difference And Why Does It Matter?

We see it all the time on the shelves and online. Organic food and organic drinks highlighting the health benefits of pesticide free farming, chemical free ingredients and more



If you take a closer look, you'll notice some products are 'ACO Certified' with the green logo. This means they're Australian Certified Organic. To get this certification, companies have to go through extensive annual audits on their sourcing, suppliers and manufacturing process to maintain their accreditation.
Other products will simply state they are organic or make claims about organic ingredients without the certification.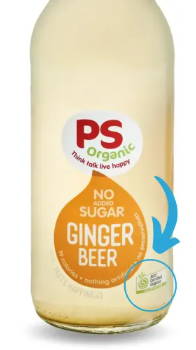 ACO isn't the only company that can certify organic, but is the most popular.
---
So What's The Difference And Why Is It Important?
ACO certified means the product has a quality guarantee from an Australian independent body that the product is verified organic. This means the organic standard that is advertised on the product is indeed correct and you can trust the product is what is says it is.
Every step of the process (from paddock to plate) must be audited according to the Organic Standard to be able to market an organic food or organic drink using the sought-after ACO logo.

There are no legal standards required in Australia to label something 'organic'. This means that whist a majority of companies do the right thing and back up the claims on their labels, there is no guarantee that they are organic or meet what they claim.
Products that claim to be organic when they are not (also known as 'non-certified organics') can make consumers more likely to mistrust organic products. Buying ACO certified products alleviates this concern.
If a food or drink is certified organic you know it is guaranteed to have organic integrity.

---
Why Don't Some Products Have This Certification?
This certification process can cost thousands of dollars a year to maintain and pay for annual audits. For many brands, this cost is far too high to maintain which is often the reason why you see products claiming organic without it.
A business can still claim their product is organic as long as they can substantiate their claims through reasonable proof. Those companies that are caught making false claims about the organic properties of their products face hefty fines from The Australian Competition & Consumer Commission (ACCC).
The 2021 Australian Organic Market Report found 31% of Australian consumers believed they had been previously misled by organic claims on product packaging.
You can learn more about ACO certification requirements here
---

This information is not intended to diagnose, treat or cure any medical condition. It is not medical advice and is general in nature. Consult your doctor before commencing any new exercise or diet program.

Don't miss the latest.
Hit the Club!
Get awesome deals, product arrival alerts, updates and more!
Thanks!
This field is required
This field is required